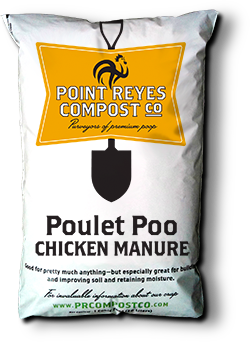 Nutrient-Rich Chocolaty Composted Chicken Crap.


Perfectly composted chicken manure that will add vigor to your
existing plants, promote root growth, aid in water penetration and
improve the structure & long term quality of your soil.
Poulet Poo (doesn't it sound better in French?) is yet another
"closing the loop on poop" solution for our legendary local chicken farms. We have blended this high quality, nutrient rich crap with grape pumace, a by-product from our Northern California wine growers. This combination will have your soil singing "Poulet Poo avec moi ce soir!"
Composted chicken manure provides more Nitrogen, Phosphorus & Potassium to your plants compared to most other manures. Boasting an NPK of 2-2-2, Poulet Poo will enhance your soil with these three basic elements: Nitrogen - allowing plants to produce the proteins needed to build living tissue for green stems, strong roots and lots of leaves; Phosphorus to help move energy throughout the plant; and Potassium which aids plants in adapting sugars needed in growth and is especially helpful in root crops.